This one wasn't super easy. It was more of a labor love. And now that it's done, we can't ever have any more children because then I'll have to redo it. Not really :) Actually, once I figured out what I was doing, it got easier. The hardest part was picking pictures that really captured cornerstone moments in our family's journey together.
There's our wedding, of course. Me with the poofy veil and the almost kiss. Then my belly being turned into a giant basketball, from which it's never recovered. Then Simon, adorable and naked crawling around through our home. Then the three of us on an elephant in India a few days after losing Elijah. Then Simon patting his little sister as she nestled inside me. Then Talya reaching out to her Daddy. Then the two of them, the beginning of a great friendship. Then me and my Charlie, the day we first met. Finally, the three of them running through life together.
In between all of these, are other moments that we've lived together - some not easy to capture on film or able to be outlined in black in white. The arguments. The times we were afraid of losing Ben's Dad. The year we had to say goodbye to our family home. The moment I knew there was no longer a heartbeat. The meals we've cooked, the friends who've lived in our home, the sisters-in-law we've welcomed, the holidays we've celebrated.
But these silhouettes reflect the Big Moments, where God made us Us.
**********
I'd been working on this project for a while, and knew I wanted it printed on canvas, so when
Groupon
featured
Canvas on Demand
, I was ecstatic! I was able to get a 16x20 canvas of my design for $49, including shipping - quite the deal. I regularly surf all the cities' deals on Groupon, and I see that deal pop up from time to time, so jump on it. Once you start, it's hard to stop, so also head over to
Canvas People
for another amazing deal on printing your own artwork on canvas - $55 off any order, which amounts to a free 8x10.
If you want a quick synopsis on how I did the artwork, here you go: (I used Adobe Illustrator and Photoshop)
In Photoshop, open up the photo you want. You are going to turn your artwork into a resizable vector, so quality isn't too important - making those iPhone camera photos an option for this piece. First, unlock the layer and create a mask that hides anything you don't want in the silhouette. I use a combination of the lasso tool and magic wand. Then, create a new layer. Paint the new layer black, and move your mask to the new layer. Make sure you hide your bottom layer, and you should be looking at a black silhouette of your image.
If you're like me, your image isn't at all perfect. There are bumps and divots and all kinds of rough edges. Save your photo anyway and place it into a new document in Illustrator. From here, do a live trace of the image and hit "expand." Now, instead of a photo, you're working with an editable vector. Here's where I do my tweaking. I fix any major problems with the sub-selection tool, and then I use the "smooth" tool to get rid of all the imperfections of my unsteady hand. I much prefer working in Illustrator to Photoshop, so I like to do my editing there, but if you're a photoshop person, you can get it the way you want it there.
In Illustrator, I just typed our last name, found a font I liked and arranged the silhouettes over it. I experimented with a thousand different color combinations and decided this is what I liked the best.
When it was finished, I decided it was too small for the space it would be hanging in. It needed a friend, so I whipped up another one to hang next to it using our family promise and another silhouette of all five of us. This one I printed at
winkflash
because it was the cheapest I could find at the time. They both turned out great, but the one done at
Canvas on Demand
is crisper, brighter, and smoother. Just so you know :)
And that's us in a nutshell!
I linked up here: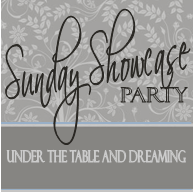 Please visit and check out all kinds of other creative projects!