just a quick note to let you know that I've changed the comments settings on the blog to allow anyone to make a comment - a lot of you have not yet let google take over your life to the same extent that I have (good for you), and this should make it easier when you have something to add.
which I love, by the way.
you leaving comments, not google taking over my life.
********
By the way, in unrelated boring-for-you-exciting-for-me news..... I recently spent an inappropriate amount of time googling "paisley black & white dinnerware." there was nothing to be found - it was depressing, because that's exactly what I had my heart set on. I gave up, and chalked it up to my overactive imagination. But, today, walking through Macy's, what did I find?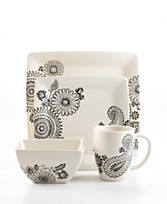 And they were on sale.
And someone (bless his heart, I love him) mismarked them as buy-one-get-one free. So, I asked for a manager and ended up getting them for about $12 a place setting.
Dreams do come true.